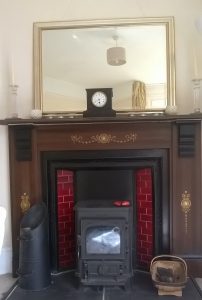 The primary reason for having your chimney swept is to remove the flammable creosote to prevent chimney fires. A chimney fire will burn very hot and extremely dangerous and, in many instances, will lead to a full-on house fire, not just a small blaze limited to your chimney.
Another reason for sweeping chimneys and flues are to ensure a clear passage way which gasses can escape through.
Sweeping your chimney will greatly reduce the build-up of creosote and soot, and so reducing your risk of a chimney fire.
Blockages like bird nests, soot falls, buildings waste (yes unscrupulous builders have been known to use the chimney as a waste chute) and even leaves and cobwebs can be removed. A smoke draw test will be performed on all chimneys and flues. ProSweep will provide advice on many different aspects of your fire place, flues and ventilation need to assure heating your home safely and efficiently.
Services offered by your ProSweep
Open fire sweep
Multi fuel & wood stoves
Oil fired Aga & Rayburns
Carbon monoxide alarms supplied
Camera inspection