Whether an open fire is new to you or a seasoned "fire starter" here are some of the most frequently asked questions FAQ's we get here at ProSweep. If I have not covered anything you require an answer to then don't hesitate to give me a call!
FAQ's. Why does my chimney need swept? A chimney needs to be swept to stop soot, tar, dust or even cobwebs building up and causing restriction or total blockage. If the flue is restricted or blocked, carbon monoxide, smoke and fumes will enter your home with possible serious health consequences and damage to your home. As you use your appliance, soot builds up in the flue and if not swept correctly may lead to a chimney fire and at the very least will prevent your appliance from working properly.
Q.What Does a ProSweep do? Well, we sweep chimneys of course, but we are trained to do a lot more including giving help and advice to home owners to ensure their comfort and safety whilst using their solid fuel appliance. Living in a home that uses a fireplace, gas or oil appliances or a solid fuel stove carries a certain responsibility.
Q. When is the best time to have my chimney swept? You should try to book for a sweep in early spring or summer. If you leave your chimney after a winter unwept there is a danger of soot fall, which could make a mess of carpets or spread soot into your room. We are very busy in autumn and winter and become booked up quite quickly.
Q. Is it messy? As professional sweeps, we can guarantee no mess and no fuss. We bring all our own sheets designed for the sweep trade to put on your floor, we also wear shoe covers but if you wish to cover anything please feel free to do so after all we are visiting your home. We use the most up-to-date commercial vacuum cleaner with a 3 stage filter.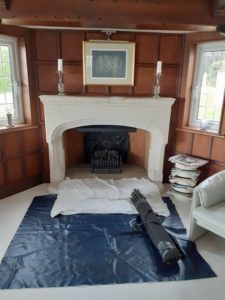 Q How do I prepare for a Visit from ProSweep? All we require is a clear working area in front of the hearth, with any ornaments moved to a safe area and clear passage between the door and fireplace. We appreciate it if the fire has been cleaned out of ashes. If parking is restricted outside of your home we request a space is reserved to enable us to unload our equipment.
FAQ's. I only burn Smokeless fuel do I still need to have my chimney swept? Yes even smokeless fuels produce products of combustion (fly ash) that leave deposits on the surface of the flue that need to be swept off at least once a year.
FaQ's. I burn household coal? Whereas household coal produces soot in much larger quantities, generally the cheaper fuels are of lower quality and produce the most soot. Also they tend to spark more and there is a greater chance of chimneys catching fire, if they are not swept often enough. Twice a year is the safest choice.
Q. If I have a stove, does that mean I do not have to sweep my chimney? Wood stoves are notorious for producing vast quantities of creosotes along with water vapour .If you burn wet unseasoned logs, and if the appliance is fitted to a non-insulated flue, tar will quickly build up in the cold flue; you then have a sure-fire (pun intended) recipe for disaster. Wood stoves should only be fitted to well insulated flues, and must only burn well seasoned wood. Then they must be swept every three months when in use. Unless this advice is followed the flue can become so tarry that no amount of sweeping will make any difference, (think of the tar on the road surface and the effect of pushing a brush over it) the only answer will be to have your chimney reamed out, and hope the chimney will stand up to such violent action.
FAQ's. What is a Cleaning Log? For customers who frequently burn wood, or have heavy tar deposits in their chimneys; We recommend the purchase of a chimney-cleaning log. They have been very successful in reducing the build-up of tar in chimneys and increasing flue performance. Hence, We have no qualms promoting them. Place one or two (depending on size of chimney) in the stove/fireplace and light. For optimum results, book a prosweep to sweep your chimney approx ten days to one month later. These logs can be obtained from most stove centres & farming supply outlets or you can purchase them from prosweep.
We do hope these have answered your questions so far , more FAQ's follow.
Q. Do I need to sweep an Oil Burner? Oil burning appliances if maintained and well serviced according to the manufactures instructions, will give no trouble, but will benefit from annual sweeping as they do produce soot. However if the regular servicing requirement is not met they it can soot up rapidly, the soot from oil burning appliances it seems is the most obnoxious of them all, as to whether it is more carcinogenic than the others we don't know but great care should be exercised when they are swept.
Q. Do I need to have my Gas fired flues swept? Yes. Although burning these fuels does not normally deposit soot, there are numerous other problems that can affect chimney function and sweeping can solve or identify these. In countries such as Germany, where sweeping all chimneys and flues is a legal requirement, the number of carbon monoxide poisonings and chimney fires are a fraction of the UK.
Q. Can you disconnect a gas fire? We are not gas safe registered so cannot and will not disconnect any gas appliance even if the supply at the gas fire has been turned off at the tap on your floor. We will remove any fire that has been totally disconnected from the gas supply by a qualified person. If required we can give you details of a reputable Gas Safe installer that can assist you.
Q. What do I do if I have a bird's nest in my chimney? If you have a bird's nest in your chimney, it is advised you fit a bird guard on your chimney pot; the chances are the bird is a rook or a starling and is likely to return the following year. A bird guard will prevent this. We can remove the bird's nest and fit a bird guard on your chimney pot. We will not remove nest during the breeding season.
Q. Does a sweep have to go up on my roof to clean my chimney? No, chimneys are swept from the fireplace and it is not normally necessary for us to go up onto your roof.
Q. What if my upstairs chimney is connected to my downstairs chimney? Your chimneys are nearly always separate and require individual sweeping.
Q. How long will you be in my house? If it is a chimney we have not done before, we allow at least one hour, as we do not know what we will encounter up it (tight bends, birds nest, and insecure liners) . At the least, it will take half an hour by the time we cover up, get all our equipment in place, and discuss how you use your fire and type of fuels burnt. The longest we have ever taken is two and a half hours on one chimney , BUT this is highly unusual and it was an old property where the chimney had not been swept for years and the new owners were wanting to re- use the fireplace.
Q. Do you do weddings? We have been asked this question many times and the answer is NO…but we know a man who can! Give us a call or e-mail us and we will give you details. We are not Chimney sweeps that fit stoves, or stove fitters that clean chimneys. However, we are Trained, Professional Chimney sweeps that sweep chimneys!
FAQ's. Why are there "bits & pieces" falling down the chimney? This is possibly a sign that the chimney needs sweeping. It could also be because the flue is suffering from "Loose Liner" which is a deterioration of the chimney lining and although sweeping may help, it will not stop no matter how often the chimney is swept and in the worst case could need relining. If the liner dropping is mainly when it's raining or windy you may find fitting a cowl will help. The other reason for this problem could be bird, squirrel entry, which once removed can be stopped by the use of a cowl, bird guard, or cap.
FAQ's. Why do I need to have a vent? The fire requires air / oxygen to complete the burning process, it also needs a quantity of air to carry the fumes up the chimney. Where there is insufficient air for the purposes, you will get smoke or fumes coming back into the room and the more serious cases can lead to carbon monoxide poisoning.
FAQ's: What happens to the soot? Once it has been bagged from the vacuum we can either dispose of it in your own bin, or leave it with you, (it has some great gardening properties) or for a small additional charge we can take it away and dispose of it for you. Sometimes local gardeners request soot from us and where that is the case, we will not charge you for disposal.
FAQ's: What can go wrong? Chimney sweeping is safe and we are well trained in our trade. Problems are rare, but if we are going to encounter a problem, it will nearly always be with the chimney pots. A good chimney pot will easily stand up to brushing. If a pot is damaged or weak though, it could break under sweeping. We always carry out a visual inspection with binoculars before we start and if we are in any doubt, we will not sweep. If a pot does break under sweeping, we are not liable for the cost of replacement of that or any related damage that may occur. We have good local builders who can advise you on pot replacement and other external work for a competitive price.
FAQ': How hot can I run my stove? We always recomend fitting a flue pipe thermometer. This attaches to the flue pipe of your stove and tells you whether you are over-firing (too Hot) or under-firing (too cold) your stove so you can adjust the burning rate accordingly to get the most efficient burn.
Q: Do I need to burn Kiln Dried Logs? No but wood needs to be Dry or seasoned. Wood needs to be cut, split and left to dry in a dry, well ventilated area for at least 12 months, ideally 2 years. You can generally tell if a log is dry because the bark will come away easily in the hand and the log will have splits across the grain. ProSweep recomend investing in Moisture Meter as a good way of testing your logs – if the moisture content is 20% , better still try for 15% ,they are ready to burn.
If I have not covered your FAQ's or if you require a more indepth answer to then don't hesitate to give me a call!