Tips and Tricks for Drying Wood Like a Pro
As a Devon Chimney Sweep, ProSweep are often asked about drying wood and whether it is worth it. I thought I would impart my wisdom in a written form, so please share far and wide!
If you own a wood stove, you will almost certainly find yourself on the lookout for cheap or low-cost wood to burn to save you money and allow you to keep your heating bills down. However, what if you had the skills and resources to cut and dry your own wood, you would be enjoying the ultimate cost-effective solution and no longer relying on your supplier to keep you well stocked up? Now I have your attention, let me tell you how!
Don't leave it too late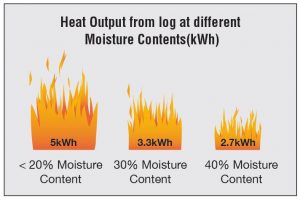 Good wood is a like a fine wine; it takes time. Cutting and drying wood is something that you need to think about well in advance of the winter season. Spring or very early summer is the best time to cut your wood so that you have plenty of time to dry it properly.
Avoid burning wood that is not fully dry, this could cause a build-up of creosote in your stove and leave you with other problems. Good dry wood burns better and cleaner; with this in mind it is well worth the time investment in starting nice and early, plus you can sit back safe in the knowledge that you have what you need to get you through the winter months with very little expense in terms of running your stove.
There are lots of variants when drying wood, as some wood will take much longer to dry than others. Oak and Birch are among those that need a very lengthy drying time so always bear this in mind when planning your wood preparation schedule.
The best way to cut your wood
When you cut your wood, save yourself some hassle by cutting logs to a size that will fit easily into your wood burner, this will make life much easier when the winter rolls around. Don't skip splitting the wood, even if your wood is not big, splitting it will make it much easier to catch alight. Once the bark is pierced, if you have not split the wood, you will find it produces lots of smoke and does not burn efficiently in terms of how much heat is produced. Preparation really is key.
Where should I dry my wood?
Storing wood in a shed is not actually the best way to dry wood, anything that closes the wood off from the outside too much can lead to your wood stack growing potentially harmful mould, and it will significantly slow down the drying process.
Dry your wood in such a way that it is sheltered from the rain, a structure with a roof but open sides is perfect as lots of air can still circulate through the stack from all directions.
Wood needs to be stacked slightly off the ground so that the air can get in underneath. Use a grate or a support to help with this. Place your bottom row of wood well-spaced so that the logs are not touching each other too much. Stack the wood upwards from the bottom row, again leaving space between logs. No need to worry about whether the bark is placed facing up or down, just stack in a way that makes the most of the space available. When you choose where to place your wood store it is best to make sure there is lots of space away from walls and other structures.
How will I know when the wood is ready to burn?
If you have left plenty of time to dry your wood, you should find you have a nice supply of good quality wood to burn when the nights draw in and the air turns somewhat nippy. If you want to double check that your wood stock is dry and ready to use, you can do this using a couple of different methods.
Hold the logs and compare the ends for differences in colour, you can also touch the ends and feel for moisture.
If you are still unsure, cut a small piece of the wood and throw it into the fire. Wood that is not dry enough will produce lots of smoke and crackle, whereas dry wood will burn quite quickly and with minimal smoke.
Better still invest in a moisture meter, these are readily available and you should be aiming to have you wood with a moisture content of between 15 and 20% for the best burn.
As you can see, there is a bit of a process involved in cutting and drying your own wood, the good news is though, once the initial cutting has been done you can leave your wood and let the weather do the rest. The ground work is well worth it to save you both time and money once winter arrives.
Professional Chimney Sweep, based in Bovey Tracey, Devon. ProSweep Professional Chimney Sweep is approved by Devon Trading Standards Buy With Confidence offering a professional and personal chimney sweep & stove flue service in Newton Abbot, Torquay, Paignton, Dawlish, Teignmouth, Bovey Tracey, Chagford and surrounding towns and villages.