Christmas is over and now is the time to pack up the lights and decorations get rid of your tree, returning your home to normal. Whilst you might store all your decorations in the roof or at the back of the garage, what can you do with the real Christmas tree after the twelfth night? (Now you can no longer put it in your green wheelie bin unless you pay for garden waste collection.) If you have an open fire or stove, you might be thinking set fire to it. Don't – this is the worst thing you can do. Just get rid of it.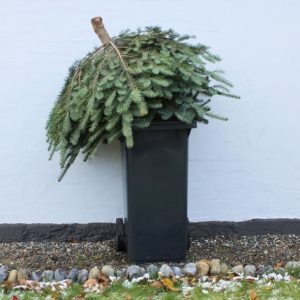 Here are some reasons that burning your Christmas tree in your fire or stove is a bad idea:
The dried needles will burn in a flash, causing a fierce fire. The needles can produce sparks that can fly into your room setting your rugs, furniture and other décor on fire. Sparks will also go up the chimney risking a chimney fire.
Firs, pines and spruces, which are the popular Christmas tree, all have a high resin content that can burn very quickly and explosively. These small explosions can cause items inside and outside your home to catch fire – including your chimney flue.
Since a dry Christmas tree can burn faster than expected, the fire can be difficult to control, resulting in a lot of flames and heat.
The wood from fires, pines and spruces will produce a lot of creosote, causing a build-up on chimney lining.
Burning a Christmas tree in an open fire or stove with a dirty flue can cause any creosote deposits to ignite, resulting in a flue fire.
Because of the rapid nature of a Christmas tree fire, smoke can pour out of the fire with no warning, filling your home and damaging your belongings.
The needles also contain a lot of nitrogen that can generate toxic gases such as hydrogen cyanide
Therefore, the best advice from ProSweep, professional Chimney Sweep will give you, is to never burn any part of your Christmas tree in your fire or stove for your safety. Did you know that January is the buisest month of the year for chimney fires? If you can't remember when you last had your chimney swept by a professional chimney sweep or if it was more than 12 months ago do call ProSweep on 01626 832051 and book your 2021 chimney sweep , today.
ProSweep Professional Chimney Sweep is approved by Devon Trading Standards Buy With Confidence offering a professional and personal chimney sweep & stove flue service in Newton Abbot, Torquay, Dawlish, Teignmouth, Bovey Tracey, Chagford and surrounding towns and villages.