Looking to buy logs for your fire or stove? Then make sure you don't Buy Wet Firewood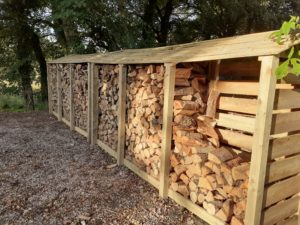 It's obvious but logs should not be wet, wet firewood affects the way fire burns. Trees that have just been felled are known as green wood and can contain around a moisture content of around 50%. Burning wet logs can be extremely difficult  but also incredibly inefficient, as much of the energy in the wood is wasted turning your water into steam resulting in less energy for heating. It is generally advised wood needs to have a moisture content of no more than 20%  but ideally 15%.
What is seasoned wood?
People will often refer to wood being 'seasoned' in that it has been cut and left for a season to reduce its water content; this is misleading as a there are so many variables as to how long it will take to dry wood: When was it harvested, how big is the log, has it been split, where is it stored? Better still think, wet or dry logs. In normal circumstances it will take one year of drying for every inch of timber, and if the wood has not been split is covered with a waterproof cover (the bark) so will only be drying from the ends.
When choosing your log supplier whilst initially it might appear a bargain if you are paying for wet wood you will be better off buying kiln dried logs that will give the heat you want.
The best way of ensuring the logs you have just bought are dry is to invest in a moisture meter , these clever little devices will let you know the moisture content in the wood. More water equals less heat.Ideally logs should be 15% or lower.
ProSweep Professional Chimney Sweep is approved by Devon Trading Standards Buy With Confidence offering a professional and personal chimney sweep & stove flue service in Newton Abbot, Torquay, Paignton, Dawlish, Teignmouth, Bovey Tracey, Chagford and surrounding towns and villages. Book ProSweep on 01626 832051 or 01803 464649