Are you looking for a reliable , efficient, trained and insured sweep, then you are looking in the right place. If you burn wood or coal fires in your home, you are at risk from chimney fires and, the consequences of this could be unthinkable. That's why it makes sense to have your chimney regularly swept by professional Devon Chimney Sweeps.
ProSweep,as insured Devon Chimney Sweeps  have training and experience with sweeping a wide variety of chimney types and have the expertise to make sure that you can enjoy your fireplace in safety. As Devon Chimney Sweeps we clean all types of open fires, wood-burning & multi fuel stove as well as Aga & Rayburn flues.
Why use ProSweep
As a member of Devon Trading Standards "Buy With Confidence", you will receive the services of a professional, trained and experienced chimney sweep, who work to ensure that the highest standards are maintained and issue appliance certificates on the completion of each sweep
ProSweep as professional Devon chimney sweeps we are covered by £5million public liability insurance, we carry a superior level of equipment compared to any part time sweeps, such as HEPA filtered industrial vacuum cleaners and specialised types of rods and brushes, as well as traditional sweeping methods we can also rotary sweep if this is the best method.(Unlike some "sweep" we can offer more than only power sweeping, which can cause damage.) As experienced operators we have swept hundreds of chimneys and a wealth of knowledge to help us solve any problems your appliance may throw at us.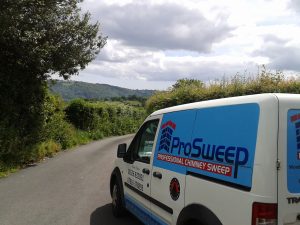 ProSweep professional Devon Chimney Sweeps are based in Bovey Tracey and are perfectly place to serve our customers within a 20 mile radius. We believe that by limiting the area we cover it enables us to offer a better level of service with quicker turn around between initial enquiry and actual appointment.
If you live in Bovey Tracey ,Newton Abbot, Chudleigh, Dawlish or Torquay and would like to book your chimney sweep, or only have a question we will be more than happy to help. Please do give us a call on 01626 832051
Also covering Chagford, Moretonhampstead, Widecombe, Lustleigh, not fogetting the villages of the Teign Valley. We will also visit Torquay, Paignton, Newton Abbot as well as Bovey Tracey.