Are wood burning stoves to be banned?
Modern Wood burning stoves that comply with Eco Design 2022, burning dry logs with less than 20% moisture content are the cleanest and most efficient they have ever been. They not have the lowest historical emissions but are burning a renewable solid fuel.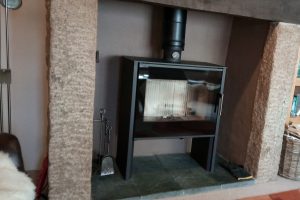 Air quality is important to us all. Environmental scientists have identified pollutants that can have a negative impact on our health. One of the most high profile and widespread sources is diesel engines. Even though wood burning stoves are a relatively low source of emissions the stove industry is committed the reducing the emissions from wood burning stoves even further.
Air Quality – DEFRA draft clean air strategy report was published 22, May 2018.
Defra has launched for consultation its draft long-term Clean Air Strategy – outlining steps it plans to take to address emissions from a range of sources. Much of this strategy could be a more rigid enforcement of current legislation such a smokeless or clean air zones where people are already limited in what they can burn.
The consultation will inform the final Clean Air Strategy and detailed National Air Pollution Control Programme, to be published by March 2019.
The key proposal in summary that effects wood burning and multi – fuel stoves is as outlined here,
Defra will legislate to prohibit the sale of the most polluting fuels, by introducing a 2% sulphur limit for the sale of all solid domestic fuels and ensure that only the cleanest stoves are available for sale by 2022,this will not include dry logs, but some coals.
They are not proposing to ban anything.
Wood burners will not be banned and there will be no retrospective legislation for existing installations.
The European legislation will be adopted into English law after BREXIT.
All quality stove quality manufactures are currently working towards a new stringent emissions standard as part of the governments strategy to limit and improve efficiency of all consumer products as defined in 39 sections or Lots as they are known.
Part of LOT 20 which relates to Stoves defines the parameters for the new standard covering four types of by-products resulting from the combustion of domestic solid fuels – Coal and Logs.
If you are looking to buy a stove ask your retailer if it is Eco Design Compliant , have it installed professionally with a flue liner and burn efficiently using ready to burn logs, of less than 20% moisture content (Kiln dried logs are best).