Your Guide to Buying a New Stove
The crisp mornings of Autumn are upon us, and as we all reach for the Pumpkin Spice candles and swap our T-shirts for big cosy jumpers, you might have been considering purchasing a woodburning stove for your home. If you feel overwhelmed by the choice of models, features, sizes and styles, then please read on, I really hope this guide to buying your perfect stove helps.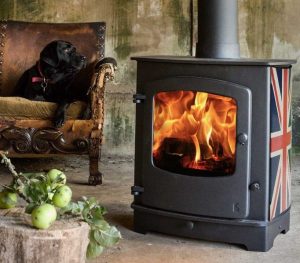 What output should I buy?
 he first thing you will notice when looking at stoves to buy is the different outputs. Whilst this is an important factor to consider, it is best to avoid the temptation to buy the one with the largest output in trying to get maximum heat for your money. Firstly, output is measured in kilowatts and is a variable number based on the maximum output that stove manufacturers can achieve, in optimum conditions and with good quality fuel. The second point to keep in mind is that by going for a stove with a huge output, it can leave your home feeling boiling hot, and a stove that doesn't ever reach it's optimum in terms of output. No amount of research can take the place of a professional fitter coming into your home to offer you advice based on your specific requirements and circumstances.
What about size?
 In addition to output, you also need to be aware of the physical size of the stove. One of the biggest considerations is the type of fuel you are looking to use. If you are looking to use logs, it is a very good idea to ensure that your stove can accommodate logs of around 11 inches as a minimum. Unless you have a very good reason for purchasing a stove smaller than that, it is simply not worth it. Most UK suppliers sell logs that are 11 inches long, this means you have lots more choice of where to buy, hence keeping costs down.
Should I look for a Multi-Fuel Stove?
 There are so many different stoves currently available on the market, one stove type I am often asked about is Multi-Fuel. In a nutshell, this simply means that these types of stoves meet the requirements to burn coal or wood, but not both at the same time! If you want to burn wood on a multi-fuel stove, it will need some fine tuning to get it to operate at it's optimum. If you were hoping to burn two types of fuel at the same time, this is, for the most part not an option.
Do I need an air wash system on my new stove?
 An air wash system is found in lots of modern stoves on the market. It works by using a hollow door which essentially insulates the door with air, making the air coming in a much hotter temperature, this adds to efficiency and makes adding extra fuel easier. Air wash systems usually result in much less soot build up (within reason) on the glass stove door which of course is very attractive to buyers.
What do I need to know about Air Controls?
Any stove that burns wood will need both primary and secondary air controls (the primary is the main air control which reaches the fire bed, and secondary goes to the flames). When you purchase your new stove, it is best to get one that has independently controllable primary and secondary air controls; this will give you the maximum flexibility in terms of fine tuning and, getting the best out of your stove.
What an earth is a back boiler and do I need one?
 Some stoves available are what's know as "hybrid", they can heat your room like any other stove, but also have the capability of providing hot water. Whilst on paper they sound like a great idea, one drawback is that the water in the heating system part of the stove can cool down the overall temperature, this can cause flue gases to condense. There are ways around this, but it is best to seek the guidance of a professional installer to discuss it further.
What do I need to know about the Smoke Control Act?
For UK installation, you need to be aware of the Smoke Control Act, it is a legislation that says it is illegal to omit dark smoke from your chimney within a smoke control area. If you are within one of these areas, you are only permitted to burn approved smokeless fuels or use an approved appliance. It is important to note that as-yet, no wood has been approved as smokeless, so if you are inside a smoke control area your options are more limited and you will need to seek professional advice.
I really hope this article has been helpful in  Buying a Stove, and if you need any help or advice please get in touch. We are a professional chimney sweep service based in the town of Bovey Tracey. We cover areas such as Chudleigh, Chagford, Newton Abbot and surrounding towns.