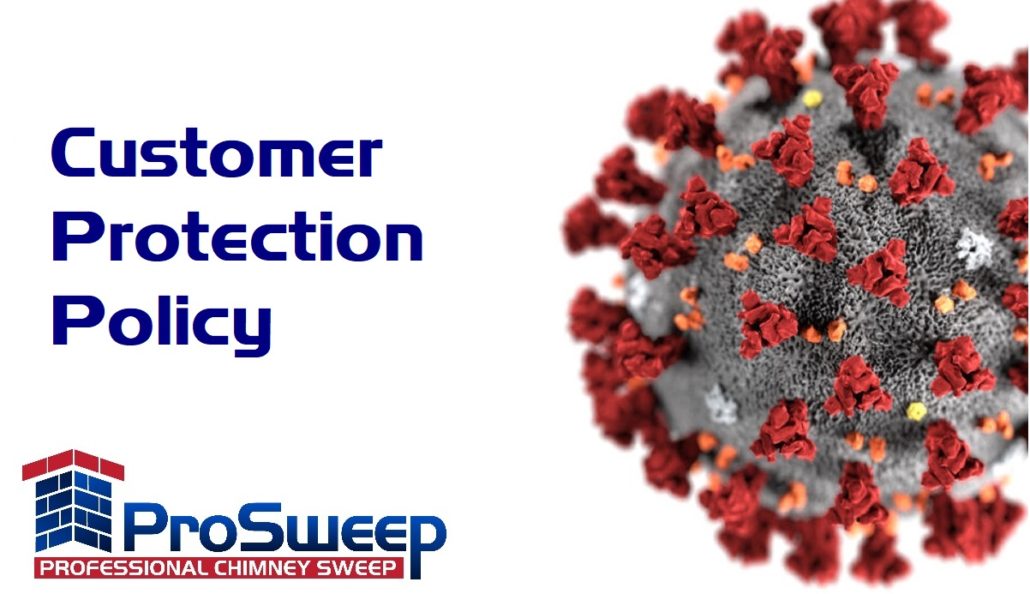 Safety is at the forefront at ProSweep and always has been. As the COVID-19 outbreak continues to evolve, ProSweep are monitoring the situation closely and will periodically update our operations based on current recommendations. Throughout the pandemic ProSweep took swift and immediate action to keep you our customers safe, and even continued to offer an emergency service to our regular customers during lockdown.
As restrictions are being slowly lifted, ProSweep have now resumed sweeping but have implemented new operational procedures to prevent the spread of COVID-19 to eliminate the potential risk of exposure for you as well as myself. These include use of Sanitizers on equipment & appliances, extra PPE and various protocols and methods to ensure risk of contamination is minimized, also included is a pre visit customer checklist and detailed method statement of what to expect with your COVID-19 Secure Chimney Sweep from ProSweep.
The Steps ProSweep are taking during the Covid emergency
ProSweep will not start any works if customer or their families present any COVID-19 symptoms, however mild and are in Self Isolation or are Shielding.
ProSweep will undertake daily pre work check of temperature and withdraw from work should the temperature be above 37.8 ⁰C
A pre visit review will be undertaken to check that customers and their families are not exhibiting COVID-19 symptoms.
ProSweep are aware of the COVID-19 symptoms and will withdraw from the client's home if it is felt that the client is exhibiting symptoms.
ProSweep will ensure they maintain a 2-meter distance, ideally customers will not be present in the room in which we are working.
ProSweep will wear fresh disposable gloves before entering the customers home.
ProSweep will wash or sanitise hands regularly throughout the day.
When working good ventilation is to be ensured including opening windows prior to your ProSweep visit.
ProSweep shall use disposable or fresh protective sheets, and both the hearth and appliance being disinfected (prior to work starting and again when work is completed). This will remove the main risks of transmission.
Customer will be offered proof of sweeping documentation in electronic format however where this is not possible it will be provided within a bag/ envelope and customer advised to leave for 72 hours before touching/opening. Where possible we will take payment on the day by contactless.
To prevent the spread of COVID-19 and reduce the potential risk of exposure to both parties, we are conducting a simple screening questionnaire to be completed before any works are undertaken.
1.Have you had close contact with or cared for someone diagnosed with COVID-19 within the last 14 days? YES NO
2.Have you experienced any cold or flu like symptoms in the last 14 days?  YES     NO                
3.Are you Shielding, i.e. Had a letter from your GP informing you that you are high risk and must isolate yourself alone or with your family for a given period? YES NO
4. Have you school aged children that have been told to isolate by the school because of possible contact? YES   NO    N/A
If the answer is "YES" to any of the questions above, ProSweep will not be able to start any works within your property at this time, but are happy to visit when safe to do so.
Before our arrival, customer to arrange the following:
1.Clear access route to the appliance, with doors & windows open.
2.Remove coffee tables, fenders, ornaments etc. from the area around the appliance.
3.Remove all ornaments, tools, fuel containers, etc. from the hearth.
4.Make an electrical outlet easily available.
5.Maintain social distancing throughout, preferably leave the room.