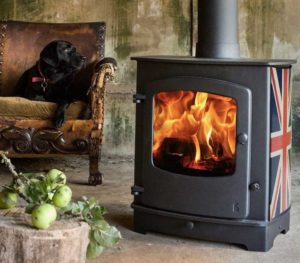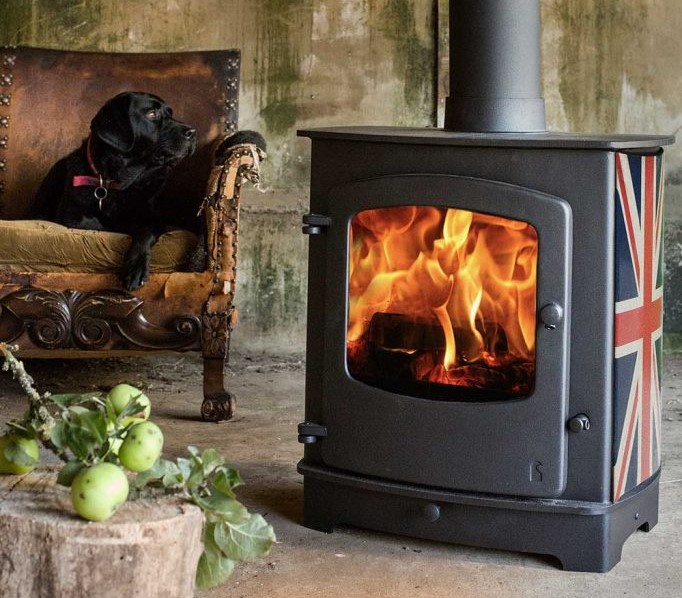 Considering buying a stove?
This is the best way of enjoying an open fire without the mess, and is much more efficient than an open fire too.
Just consider the following benefits that a stove gives.
Benefits of a log burning stove compared to an open fire.
· Environmentally friendly
· Reduced heating bills
· Less drafts
· No heat loss up the chimney
· Easier lighting
· Uses less fuel
· Far greater heat output
· Cheapest way of heating your home
· Quickest way of heating your room
Obviously the internet can be a good place to gather information on solid fuelled appliances like wood burning and multifuel stoves, cookers, pellet appliances etc. In the trade stoves which provide heat to a room are called room heaters. There will also be lots of information regarding wood as fuel. I would however advise caution and retain a healthy degree of scepticism when reviewing some of this information. This is particularly true when reading product reviews written by users of a given stove, for example. The problem is that often the appliance in question will not be particularly efficient (and therefore not so controllable) and perhaps not even very well built.The problem here is that the review is often extremely subjective. The author may have no experience of using any stove except their own and there is often plenty of sentiment thrown in. A great many users confuse heat output with efficiency. Just because a particular appliance can supply enough heat to have the owner stripping down to shorts and a T-shirt does not necessarily make it efficient. Some even think the kilowatt rating is a measure of efficiency and end up with a stove which is far too big for the room. Why write a review or get involved with internet chat about a stove anyway? I don't find the same people writing or otherwise attempting to inform us of the wonders of their new gas or oil boiler.
Many buyers think their stove is the very best available. They have, after all, invested time and money researching and purchasing the new addition. Unfortunately this is not always the case and some poor choices are made. A big part of the problem is that the UK has no recent cultural history of wood burning and in particular, no culture of using wood closed appliances. This certainly applies to consumers but more importantly many in the trade don't really understand the appliances, the fuels, the chimneys and the customer's needs. Don't get me wrong, there are some very knowledgeable people about but it will not always be easy to spot them. There has been a significant proliferation of outlets selling stoves in recent years and they can now be found from builders merchants to barns and corner shops and you may or may not get good advice. One thing is certain; a single outlet can only show a fraction of all the available appliances and will obviously be keen for you to choose from their suppliers. In my opinion about 60 to 70% of stoves sold in the UK are poor at best and cause problems at worst, this is especially true for those discount warehouse type offer or internet only salesroom.(please read Dangers of buying stove  online)
What about boilers in stoves for central heating? My advice is don't even think about it. If you want a small boiler in a very efficient stove to supply you with domestic hot water then fine. The trouble of putting in pipe work to the tank may not even make this worthwhile.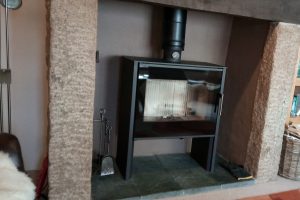 Running central heating from a stove (room heater) is a bad idea because as soon as you fit boilers the efficiency of the stove drops off hugely. This is the case even for very efficient appliances. If you want to heat your home with a stove, consider installing two if the building layout is right or you could passively duct the warm air away from the stove too the parts of the building. If you want to run a wet system for radiators then install an appliance designed for the job e.g. log or pellet boiler. These are designed to heat the water passing through them and not the space around. This preserves the temperature in the combustion chamber and is very efficient. They won't necessarily look pretty or have a glass door.
All this amounts to a bit of a mine field for the consumer who wishes to do a little research before choosing their appliance. Independent, informed advice can be difficult to come by so here are a few tips when choosing.
Don't choose on a "looks and price" basis.
Go and see it working. Don't rely on glossy brochures and internet pictures or what your neighbour says.
Choose an efficient (therefore clean burning and controllable) stove. It is however difficult to do this in the UK as there is no requirement to adhere to any standardized test for efficiency. The manufacturers can supply the information if they like. If an appliance has been DIN tested or has the Nordic Eco (Swan) label, then it has passed stringent tests.
Generally speaking buy your stove through the person who will install it or at least with the approval of the installer.
Look at the HETAS website for all the legal bits re. installation. Remember, HETAS registration does not guarantee workmanship. I'd advise you choose a HETAS registered installer whose past work you can check.
Don't choose a stove (room heater) with boiler option. You need to do more research.
Do some research in to how much fuel you will need, where to get it and what it will cost you. Also consider how you will store it. It is now very difficult to source reasonably dry wood by Christmas in the UK, so you need to plan ahead (ideally a year ahead). You may be able to get kiln dried wood at anytime.