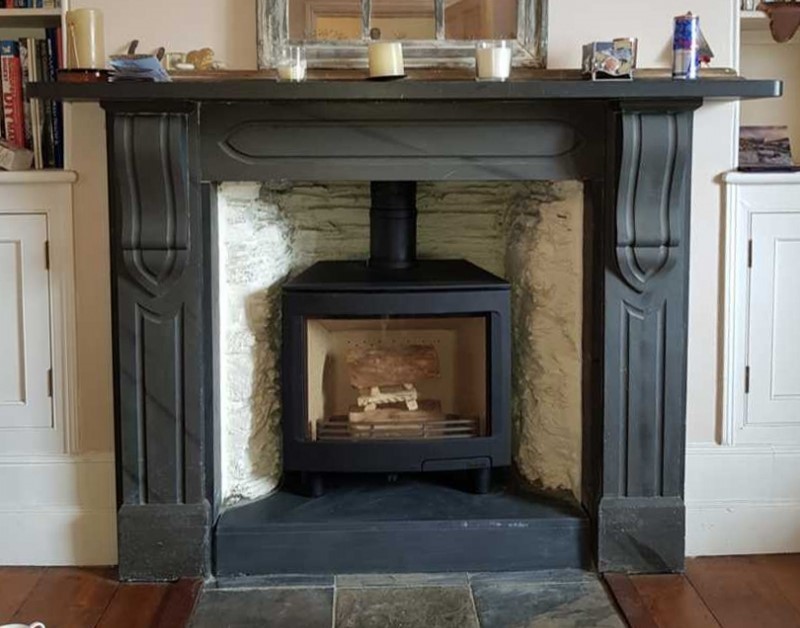 With their increasing popularity over recent years, wood burners are fast becoming the must have home trend; even homes without chimneys can get in on the action too. But is there a possible fly in the ointment in the shape of Michael Gove, Secretary of State for Environment, Food and Rural Affairs?But are wood burning stoves going to be banned?
Let us explain more.
Why have wood burners become so popular?
Wood burners have long had a very special place in homes the length and breadth of the country, however, with new and more efficient models being manufactured and with advancements that mean that even homes that don't have an actual fire place and chimney can have a burner installed, they are appealing even more to homeowners. It has to be said, as our climate seems to change with winters becoming harsher, there is nothing quite like snuggling up of an evening in-front of a roaring fire, without needing to have your central heating system continually cranked up. Staying in, is very much the new going out when you have a burner! But answer the question "Are wood burning stoves going to be banned?"
So, what is all this I keep hearing about a ban?
To hear the word "ban", gives the impression that wood burners all over the country will be condemned to the scrap heap, this is not the case at all. Michael Gove has simply stated that by 2022 the most polluting log burners will be banned in favour of a newer "Ecodesign Ready" range of burners. This change appears to be made with good reason, it is established that the stoves of the past have contributed to increased pollution and this simply must be stopped for the wellness of our planet. It is also clear that older stoves can contaminate the air with pollutants, and this can cause a whole host of health concerns, so it is obviously important that steps are taken at this point.
Where would I get hold of a new Ecodesign Ready burner?
The good news is that these are already available on the market so should make for a smoother transition. It is unlikely that even stoves that are 5 years old will comply with the environmental protocol as set out by the Government. If you are planning a brand-new installation in a home that does not currently have a burner then be sure to choose one that is Ecodesign Ready, these are specific models that burn very efficiently and with reduced emissions. You will also want to check it  has an Airwash, as these cleverly pull air down over the glass door to keep it cleaner (so you can see the ever-important flames clearly inside).
We often hear people say that they would like a stove that is bigger than 5kw, however, stoves of this size often make rooms uncomfortably hot and it is worth noting that anything over 5kw will also need more ventilation, this is a little counter intuitive as more cool air will enter the room, not ideal when you are trying to make your home warmer!
Confused by all the choice;  How do you narrow it down?
A big part of the selection process of course will be aesthetic, is your home modern and contemporary or is your home older and perhaps with an original chimney? Choose something that fits with the design of your home, you will certainly be spoilt for choice, take a visit to some local stove shops and see what you like!
We are often asked if cast iron is better versus steel and there is no clear-cut answer to this one. Cast Iron is said to last forever if it is looked after but it does take longer to heat (although it holds heat very well). Steel heats up quicker than cast iron but doesn't have quite the same longevity, however, the steels function is pretty much the same as their more expensive Cast Iron counter parts. Steel is smooth and modern looking so the design is suited better to modern homes than the older style cast iron stoves.
It is worth remembering that better models of stove will have more longevity in terms of the fire bricks that line the furnace, some fire bricks only last several years before they need to be replaced, so buy the best stove that you can afford.
What do I do if I already have an older burner in my home?
As far as we are aware so far, customers will not be contacted and asked to replace their stove, however, from 2022 all new installations including replacing existing stoves will need to be Ecodesign Ready to comply with the protocol. If your stove is very old and doesn't need replacing you may prefer to replace it before the end of its life, so that you can take advantage of some of the benefits of having a more efficient and cleaner burning stove.
Other important points…
A new burner installation is a big commitment in terms of cost and aesthetics in your home. It is not a decision to be taken lightly so be sure to seek help and advice from an HETAS approved installer. They will not only install your wood burner to the high standard of the required regulations, but they will also help you to achieve the very best installation based on your home and requirements.
Remember too, that you will need good quality fuel to burn, wood that is dry and has a moisture level less than 20% will burn cleaner and will emit less nasties. Before installing a stove, contact some local, quality fire wood suppliers to get an idea of cost and availability, never compromise with a substandard supplier as it is simply not worth it. You may even decide to buy kiln dried wood to be sure the quality is right, but this does cost a little more, but is well worth it. You will also need a safe space to store your wood, you might see stunning pictures on Twitter, Instagram and Pinterest with logs piled up all around the log burner, this is wholly unsafe unless your burner has a dedicated log shelf and must never be risked.
So, there is a lot to take in where wood burners are concerned, they can cost upwards of £2,000 depending on the stove you choose, how it is installed and importantly the quality of workmanship you are looking for. You may be wondering if it is worth it, in my humble opinion it is so worth doing providing you have checked it is suitable for your home and for your needs.
I spend my days in Devon sweeping chimneys and flues; the phrases I commonly hear from my customers include "I will never go back to not having one" or "How did we manage without it!" I genuinely think that says it all!
To answer the question "Are wood burning stoves going to be banned?"No