To find out how a stove works you must remember that today, stoves are available in many different shapes, styles and sizes. Each will also have different features according to the manufacturer's specification for a particular model or range.
For example, this can vary from the quite basic, with just primary air for combustion; whilst many will also incorporate an airwash system for the window; some will have a 'cleanburn system' with secondary air; certain stoves may include an 'external air' facility and yet other are fitted with integral boilers to provide domestic hot water and run radiators.
As each stove operates differently, please refer to the manufacturer's instructions for specific details.
Accordingly, the following is an explanation of the features you may wish to consider when choosing the right stove for your home:
Primary Air
This is the air that is used for combustion of solid fuel. Usually, there will be a control on the front of the stoves to adjust the amount of air entering the firebox and, thus, giving you the opportunity to regulate the intensity of the fire. This, in turn, will alter the heat output.
Primary air may be used to start a wood fire but is not normally used once the logs are burning.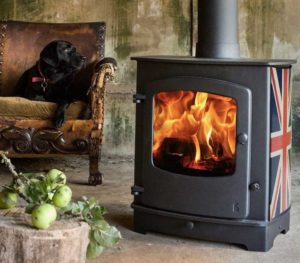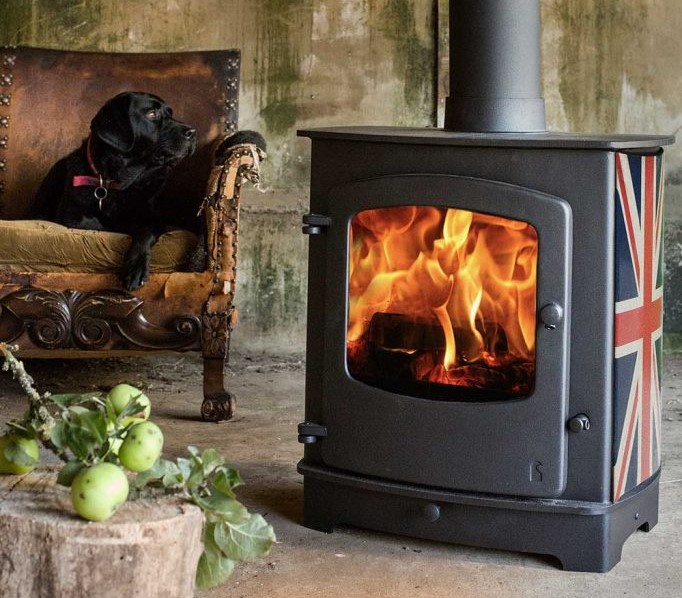 Airwash
Airwash is a design feature that uses a specially placed vent or vents to draw in cool air from the outside to 'wash' over the inside of the glass. This helps to keep the glass cleaner for      longer, allowing you to enjoy the glow and flames to the full. It is also used as primary combustion air when burning wood.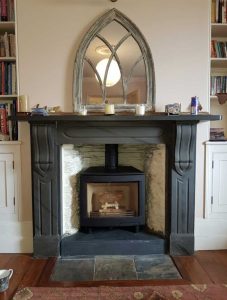 Convection Air
Where stoves have convection system, cool air from within the room is drawn into the convection chamber, the air is heated and rises and, within a few minutes, the hot air flows out into the room. The cooler air continues flowing in and is then heated, maintaining added heating efficiency.
Some models may also incorporate, or have the option of, an electrically-operated fan to boost the convection process and provide a quicker warm up time within your room.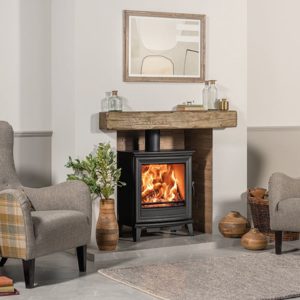 Keep reading to find out moor on How a Stove Works
Cleanburn combustion or Secondary Air/Tertiary Air
Introducing pre-heated, secondary/tertiary air into the firebox allows there to be combustion of unburnt hydrocarbons in the smoke. This 'cleanburn' process can improve the heating efficiency you obtain from your fuel and give you an improved flame visual.
External Air
All wood and multi-fuel stoves with a heat output above 5kW require the provision of additional air for combustion. An External Air facility allows this air to come directly from outside your building rather than through a vent into the room, thus eliminating draughts and adding to the overall heating efficiency.
Boiler stoves
Stoves with a built-in boiler are designed to provide domestic hot water and/or run radiators as part of a stand alone system. The number and size of radiators you can operate will depend on the 'heat output to water' of the particular model.
Alternatively, you can 'link up' some boiler stoves with your existing heating system. The 'link up' system can connect with gas or oil sealed heating systems, combi's, underfloor heating, and solar panels by using advanced electronic controls. This will help you to save money on fossil fuels and reduce your reliance on single source heating.
In both cases, it is strongly recommended that your requirements are discussed with an experienced stove retailer and/or heating engineer.
Smoke Control Areas
Most town and city homes are located in Smoke Control Areas as designated by the Clean Air Act 1993. To burn logs on a stove in these locations, the model installed must have been granted exemption from the regulations by the government through DEFRA. This exemption is given only to appliances which have been independently tested to demonstrate particularly cleanburning combustion. Otherwise, you may only burn smokeless fuels on a multi-fuel stove within a Smoke Control Area.
Wood burns best on a bed of ash with primary air coming from above so woodburning only versions of stoves may have no grate and no ashpan. Other wood burning only versions may have a grate for easy ash removal but this would normally be set to a flat position to allow ash build up when burning.
All multi-fuel stoves can burn wood; however multi-fuel stoves have a raised grate. This allows the ash and cinders from smokeless fuels, anthracite or peat/turf briquettes to be riddled into an ashpan below, maintaining the airflow through the fuel bed and, hence, creating the optimum conditions for efficient combustion of those particular fuels. Multi-fuel stoves may have either an internal or external control system for riddling the grate.
How to choose the right stove for you
We would always recommend taking the advice of an appropriately qualified independent retailer, manufacturer or HETAS approved engineer before selecting your stove. The key factors to take into consideration, many of which are explained above, are:
The style/aesthetics you desire
Heat output appropriate for the room/space you wish to heat
Fuel type – woodburning only or multi-fuel?
Do you wish the stove to heat water as well as the room?
Are cleanburn, airwash and efficiency important to you?
Do you wish to burn wood in a smoke control area?
The answers to these questions will narrow your selection down and help guide you to the ideal stove for you.
Now that you know how a stove works there are several other equally important articles for you to read
How a stove works was written by ProSweep Professional Chimney Sweep who are  approved by Devon Trading Standards Buy With Confidence offering a professional and personal chimney sweep & stove flue service in Newton Abbot, Torquay, Dawlish, Teignmouth, Bovey Tracey, Chagford and surrounding towns and villages.