Chudleigh Chimney Sweep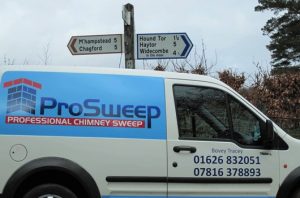 Are You looking for a Chimney Sweep in Chudleigh?Why Choose ProSweep as your Chudleigh chimney sweep?
We provide a friendly, professional, family run service.
A Certificate of sweeping will be issued upon completion.
We sweep traditionally with rods, brushes & an industrial vacuum.
ProSweep now have CCTV –  Don't be afraid to ask us to use it if you have any concerns about the state of your chimney
We use a specialized piece of equipment for for each and every chimney, no one size fits all with us.
We offer pre-booked time slots, so no waiting in for hours on end, your time is valuable as is ours. If we are running early or late we will always call you to let you know.
We offer the option of paying for your Chudleigh Chimney Sweep in cash, cheques or credit/debit cards.
Choosing ProSweep Chudleigh Chimney Sweep will help keep you, your family and pets safe.
We take safety very seriously.
Carbon Monoxide
is a "silent killer" therefore we are always happy to offer free advice on frequency of sweeping and a suitable cowl for your chimney along with any other questions you may have.
Although it is better to have your Chudleigh chimney swept during the summer months, before the colder weather arrives we find people generally don't think about this until they need to use the fire. Because of this you may well have to wait a little longer than you would prefer before we can get to you, but we are worth the wait.
Call ProSweep- professional chimney sweep in Chudleigh today or fill in your details on the contact page and we will call you back.